Stories & inspirations
90-year-old woman graduates from university with honours, celebrates unique achievement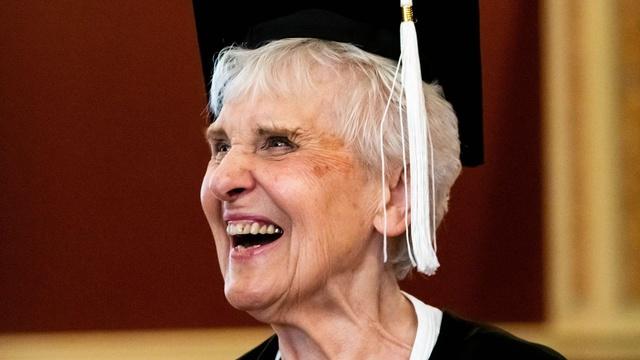 Joyce DeFauw, a 90-year-old grandmother, has accomplished a lifelong goal by earning her university degree after over 70 years of making her first attempt. She has become the oldest person ever to graduate from Northern Illinois University in the United States, earning a bachelor's degree in general studies.
After enrolling at Northern Illinois University in 1951, DeFauw had to cut short her studies due to meeting the love of her life at a church. "Although I had been in school for three and a half years, I decided to quit when I met him," DeFauw recalled.

Advertisement

At the time she first enrolled to earn her bachelor's degree, Northern Illinois University was known as Northern Illinois State Teachers College. She first enrolled for a teaching degree but later switched her major to home economics.
DeFauw married her first husband, Don Freeman Sr., and they had three children together before he passed away. Afterwards, she married the late Roy DeFauw and together they had six children, among them were twins. As time passed, her family expanded and she now has a total of 17 grandchildren and 24 great-grandchildren.
In 2019, DeFauw decided to return to the university to earn her degree after her children encouraged her. "I guess I mentioned I was upset that I didn't finish school and my children encouraged me to go back," she said.
Through her determination and perseverance, she has become an inspiration to people of all ages, demonstrating that it is never too late to follow one's dreams.

Advertisement