United States
State University of New York Destination Oswego Scholarships for International Students 2023/2024, USA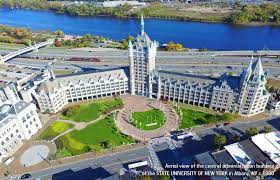 In the heart of the United States lies the State University of New York (SUNY), a beacon of public higher education. Embracing its role as one of the largest and most comprehensive university systems in the nation, SUNY comprises a network of 64 institutions, encompassing research universities, community colleges, and technical colleges.
This sprawling system is committed to providing accessible and affordable education while upholding academic excellence, research opportunities, and community engagement. With a student body surpassing 1.3 million, SUNY welcomes learners from all walks of life, shaping the minds of tomorrow and fostering a diverse tapestry of knowledge.

Advertisement

At SUNY Oswego, education transcends the boundaries of traditional classrooms, embracing a comprehensive approach to learning. Anchored by the belief in personalized support, the university empowers students to chase their dreams. Through a meticulously crafted blend of on-campus and online programs, SUNY Oswego not only imparts knowledge but nurtures with hands-on experiences and close interactions with dedicated faculty members.
Scholarship Description:
Host University: State University of New York;
Host Country: USA;
Study Level: Undergraduate Level;
Scholarship Type: Partial Funding;
Scholarship Worth: 9,000$;
Eligible Countries: International Students;
Subjects Available: All subjects;
Application Deadline: The Scholarship is open.
Scholarship Benefits:
SUNY Oswego extends a warm welcome to international undergraduate students with a remarkable financial aid package. This exclusive offer grants an annual scholarship ranging from $6,000 to $9,000, renewable for up to four years, ensuring unwavering support throughout the academic journey. This initiative underscores the university's commitment to bridging barriers and making education attainable and affordable for global students, thereby nurturing a vibrant and inclusive educational community.
Eligibility Requirements:
To be considered, aspiring candidates must fulfill specific criteria:
Applicants should hold the status of international students.
Applicants must be actively enrolled in an undergraduate degree program or pursuing a specific subject at SUNY Oswego.
Successful acceptance into the university is a prerequisite for eligibility.
Application Process:
Prospective students are invited to take a significant stride towards their higher education journey at SUNY Oswego. They are granted the freedom to choose any undergraduate course aligning with their passions and aspirations. This selection can be initiated through either the Common Application or the SUNY Application, both serving as user-friendly platforms facilitating seamless registration and enrollment. This flexible approach reflects the university's dedication to honoring diverse academic interests and crafting personalized educational paths for students.

Advertisement

Supporting Documents:
As part of the application process, candidates must submit official transcripts from their previous college/university and secondary school. These documents serve as vital components in evaluating academic backgrounds and achievements. Whether showcasing college experiences or secondary education accomplishments, these transcripts illuminate the applicant's scholastic journey, aiding the university's comprehensive assessment of potential students. The submission of accurate and official transcripts is paramount, enabling SUNY Oswego to make informed choices in selecting a diverse and qualified student body.
Admission Requirements:
Eligibility hinges on maintaining an impressive Grade Point Average (GPA) of 5 or higher. This academic benchmark serves as a testament to the candidate's scholarly achievements and underscores their dedication to excellence in studies. The GPA requirement mirrors SUNY Oswego's commitment to admitting students who exhibit consistent academic prowess and a solid foundation for success in their chosen fields.
Language Requirements
Prospective candidates are expected to exhibit English language proficiency by achieving minimum scores of 71 in TOEFL, 6.0 in IELTS, or 55 in PTE. This language criterion ensures students possess the necessary language skills to fully engage with the curriculum and flourish in SUNY Oswego's English-speaking academic environment. By setting these benchmarks, the university creates an inclusive and supportive learning community, allowing international students to actively participate and excel on their educational journey.
Official Website:
For more information, please visit the university's official website: https://www.commonapp.org/