United States
Widener University Honors Program Scholarships 2023/2024, USA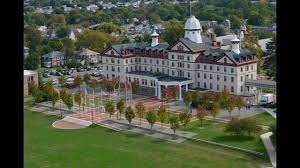 Located in Chester, Pennsylvania, Widener University shines as a private, comprehensive institution of higher learning. Its commitment to academic excellence is matched by its dedication to experiential learning. With a wide range of undergraduate and graduate programs, Widener nurtures a diverse student body in its pursuit of knowledge. Through a strong emphasis on practical education, this university cultivates not only academic brilliance but also prepares students to thrive in their chosen fields. An all-encompassing community thrives within its welcoming campus, embodying values of support and inclusivity.
Widener University's dedication to student success is illuminated by its vibrant environment, fostering personal growth and academic achievement. The institution's resolute focus on cultivating leadership, critical thinking, and a sense of social responsibility equips students for impactful careers and fulfilling lives. The faculty's unwavering commitment to mentorship and hands-on experiences empowers students to emerge as well-rounded individuals, prepared to navigate complex challenges and contribute positively to society.

Advertisement

Scholarship Description:
Host University: Widener University;
Host Country: USA;
Study Level: Undergraduate Level;
Scholarship Type: Partial Funding;
Scholarship Worth: 2,000£
Eligible Countries: International Students;
Subjects Available: All subjects;
Application Deadline: November 1st, 2023.
The Honors Program Scholarships are available for all international and Undergraduate Level in all fields at Widener University, USA.
Widener University's distinctive approach centers on personal growth and career preparation. By focusing on fostering professional leadership, the university molds graduates into trailblazers ready to ascend their career paths. In a secure and inviting environment, the campus fosters a community of ambitious and determined students, poised to chart their futures with confidence.
Scholarship Benefits:
Widener University extends a generous financial support program to eligible applicants, offering substantial assistance of up to $2,000 annually for a maximum of four years. This tangible aid aims to ensure selected students can pursue their education at Widener University without shouldering an undue financial burden. This investment underscores the university's commitment to diversity and nurturing exceptional talent, empowering students to excel in their chosen domains.
Eligibility Requirements:
To be eligible for this opportunity, prospective applicants must fulfill specific requirements as outlined below:

Advertisement

Applicants must be currently enrolled students at Widener University, fostering an inclusive and supportive academic environment for existing members of the university community.
Prospective students seeking to avail themselves of this program must have received formal acceptance into one of the university's undergraduate degree programs. This criterion ensures that students embarking on their educational journey at Widener University are eligible to participate in the financial assistance program. By adhering to these criteria, the university aims to make quality education accessible and elevate the overall learning experience for all eligible students.
Application Process:
Applying for this scholarship opportunity has been designed to be user-friendly, ensuring simplicity and efficiency for prospective students. The application process begins with the use of the university's online portal, accessible conveniently through the Common Application platform. By completing the application process through this centralized system, applicants are automatically considered for the scholarship, eliminating the need for a separate application. This streamlined approach increases accessibility and encourages a broader range of students to apply for the scholarship, promoting inclusivity and diversity within the selection process.
Supporting Documents:
To be considered for the scholarship, candidates are required to provide the following essential documents:
Official transcripts reflecting academic records from the past three years, showcasing their academic journey and accomplishments.
A mandatory Letter of Recommendation from a respected source who can vouch for the applicant's qualifications and character.
Proof of financial capability to cover expenses related to education at Widener University.
A photocopy of their passport, verifying their identity and eligibility for the scholarship.
These necessary documents play a pivotal role in the application process, enabling the scholarship committee to make well-informed decisions and select deserving individuals who align with the university's values and objectives.
Admission Requirements:
Prospective students aiming to secure admission to Widener University must meet specific academic benchmarks. This includes maintaining a GPA of 3.0 on average and achieving a minimum SAT score of 1200 or a minimum ACT score of 26. These academic standards serve as important yardsticks in the admissions process, ensuring that students admitted to the university possess the necessary academic readiness to excel in their chosen programs. By upholding these standards, Widener University seeks to foster a dynamic student community characterized by academic brilliance and a commitment to personal growth.
Language Requirements
Meeting stipulated English language proficiency benchmarks is a crucial prerequisite for applicants seeking admission to Widener University. As part of the application process, candidates must attain the following minimum scores on recognized language proficiency tests:
TOEFL IBT – A score of 500 or higher.
TOEFL PBT – A score of 80 or above.
IELTS – A minimum score of 6.5.
PTE – A score of 58 or higher.
Duolingo – An achievement of 105 or more.
These language proficiency criteria ensure that international students possess the necessary English language skills to actively participate in the university's academic programs and social interactions. Upholding these standards, Widener University cultivates an inclusive and enriching educational environment for students hailing from diverse linguistic backgrounds.
Official Website:
For more information, please visit the university's official website: https://ugadmissions.widener.edu/apply/