Australia
University of Adelaide ARC Grant-Funded International PhD Scholarships 2023/2024, Australia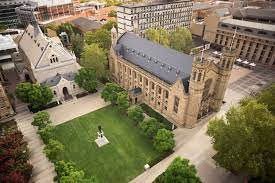 The University of Adelaide is a prestigious public research university located in Adelaide, South Australia. It is one of the oldest universities in Australia and is consistently ranked among the top institutions in the country and the world.
As a research-intensive institution, the University of Adelaide is at the forefront of cutting-edge research and innovation. It has numerous research centers and institutes dedicated to advancing knowledge in various fields, contributing to the global body of knowledge, and addressing real-world challenges.

Advertisement

The University of Adelaide takes pride in its commitment to sustainability and social responsibility. It actively engages with the community through outreach programs, partnerships, and initiatives, making a positive impact on society.
Overall, the University of Adelaide provides students with an exceptional learning experience, a supportive academic environment, and opportunities for personal and professional growth, making it a sought-after destination for both domestic and international students.
Scholarship Description:
Host University: University of Adelaide;
Host Country: Australia;
Study Level: PhD Level;
Scholarship Type: Partial Funding;
Scholarship Worth: 32,500$;
Eligible Countries: International Students;
Subjects Available: Sciences, Engineering and Technology;
Application Deadline: The Scholarship is open.
The ARC Grant-Funded International PhD Scholarships are now available for all International, and PhD Students in the fields of Sciences, Engineering and Technology to have the opportunity to pursue their studies at the University of Adelaide, Australia.
The University places significant emphasis on its global outlook and actively partners with institutions worldwide. It promotes students' involvement in international study programs and facilitates exchange opportunities with its partner universities. The institution's inclusive environment attracts a diverse cohort of students and researchers from different parts of the globe. Renowned for its outstanding teaching and research, the University provides an extensive array of undergraduate and postgraduate programs spanning multiple disciplines.

Advertisement

The university is known for its commitment to excellence in education, research, and community engagement. It offers a wide range of undergraduate and postgraduate programs across various disciplines, including arts, sciences, engineering, health sciences, business, law, and many others. Students have the opportunity to pursue specialized degrees in their fields of interest and receive a high-quality education from distinguished faculty members.
Scholarship Benefits:
The scholarship recipient will receive funding for a duration of 3.5 years, along with an annual stipend of $32,500.
Eligibility Requirements:
To qualify, applicants need to fulfill the following requirements:
They must be Australian citizens, permanent residents of Australia, or international students eligible for a PhD program at the University of Adelaide.
They should possess excellent academic achievements.
Applicants must be enrolled in a PhD or Professional Doctorate by Research program at the University of Adelaide and should be within the initial 18 months of their candidature.
Application Process:
Depending on the students' region or country of citizenship, they may need to apply through a registered University of Adelaide education agent.
Supporting Documents:
Applicants are required to submit the following supporting documents:
Certificates of degrees attained
Academic transcripts
Translations of any non-English documentation
Proof of English language proficiency
Curriculum vitae (CV).
Admission Requirements:
Applicants must meet the following admission criteria:
International students should be capable of completing both the proposed internship and doctoral degree within the duration of their student visa.
To be eligible for a PhD program, applicants need to have at least a second-class honor (upper division) or a relevant master's degree that includes 12 credit points by research (or its equivalent).
Language Requirements
Applicants need to meet one of the following language proficiency criteria:
IELTS (International English Language Testing System) – Academic Test
TOEFL – internet-based and paper-based
Pearson Test of English – Academic
CAE (Cambridge English: Advanced)
Official Website
For more information, please visit the University's Official Website: https://scholarships.adelaide.edu.au/Scholarships/postgraduate-research/faculty-of-sciences-engineering-and-technology-set/arc-grant-7